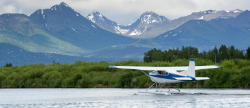 Soar Into Savings
One of the best parts about your credit union membership is the peace of mind you have when it comes to borrowing. As a not-for-profit financial cooperative, we are owned by and exist for the benefit of our members. So, when it's time to borrow, you can be confident that you are getting the best rates, terms, and personal service that we can offer. If you're looking for a car, boat, home, ATV, or heck – even an airplane, you can rest assured, knowing that we'll be by your side for the entire transaction!
This spring, soar into savings by taking advantage of everything your credit union membership has to offer. Whether you're in the market for something new, used, or need a better rate or payment, our team is here to make your dreams become reality.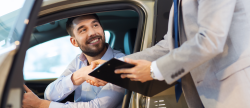 Extra Bargaining
Shopping for a car can be overwhelming when facing the intimidating sales tactics of a car dealership or even a private seller. When you're ready to start shopping, make sure Northern Skies is your first stop!
In just a few minutes, we can get you a 60-day pre-approval for a loan amount and interest rate that will give you the upper hand when negotiating with your car salesman.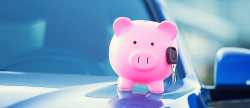 The Cost of Cars
BORROW SMART
Purchasing a car is an exciting, and costly time. During the process you will make multiple decisions that will impact your financial future. If you're taking advantage of a car loan to help with the cost, make sure you go into it ready to borrow smart! How much you put down and how long you take to pay off the car have a big influence on what the car actually costs.
Let's clarify a few terms first:
MSRP (Manufacturers Suggested Retail Price) This is the car's base price. It does not include accessories, options, or delivery/destination charges.
Sticker price This total price is what the dealer would like you to pay. It includes the MSRP, accessories and/or options and delivery or destination charges. Keep in mind that the sticker price doesn't include tax, title, or registration fees.
These terms are important when negotiating the price of the car, as well as how your loan to value is calculated. When buying a car, most consumers will make a down payment, and then finance the balance by making monthly payments until the remainder of the loan is paid in full. Interest will be charged on your loan, so it's wise to put down the highest amount you can afford.
Let's take a $15,000 car. You put 20%, or $3,000 down, so the remaining cost is $12,000. That's the amount that your monthly payments are based on. If you get a 6% interest rate, and you pay the car off in three years, you'll pay $365 a month with total payments of $13,140. With $3,000 down, your total out-of-pocket cost would end up being $16,140.
If you increase the time to four years, the monthly payment drops to $282, but you're paying a total of $16,536 for the car. The math is simple: the longer you take to pay off the balance, the more the car will end up costing.
There is no wrong decision whether or not to extend the term. While some like to save month to month with a longer term, others like to save on the overall cost with a shorter term. However, if you have decided a longer term is for you, be sure it's not so long that you are paying unnecessary interest.
BUYING NEW VS USED
How do you decide whether to buy a new or used car? Unfortunately, there is no one-size-fits-all answer. There are sound reasons to buy new and sound reasons to buy used. Some people buy used vehicles all of their lives and others prefer to buy new. It's an individual choice based upon many factors.
When it's time to purchase a vehicle, each of us must consider our financial, and life requirements. Asking yourself the right questions, and determining what is best for you, will give you confidence when making the purchase!
For some people, it makes more sense to buy used vehicles which tend to be less expensive than new and may save you in insurance premiums as well. But, it's important to consider the disadvantages as well. You may have an increased risk of mechanical issues due to wear and tear, and your choices will be more limited as far as specific color, make, model, and features. If you are leaning towards a used car, remember to research your choices, obtain insurance estimates, get preapproved for a loan, consider a vehicle inspection by a certified mechanic, take it for a test drive, and don't be afraid to negotiate on the price.
Buying a brand-new vehicle should never be an impulse buy. Consumers will find themselves in a better place financially if a down payment or trade-in is an option. Doing either or both will reduce the amount you'd need to borrow, your payment, and the total interest for the loan.
Should you decide that a new car is right for you, be sure to research your car choices, prices, insurance estimates, and to get pre-approved for a loan. From there you can focus on the fun, and customizable, experience of buying a new car. You have more freedom to select the year, make, model, color, and features you want. Be sure to determine which features are must haves before speaking with a salesman. There may be some that you could live without that would lessen the overall cost.
Once you've picked out your dream car, make sure to compare options for protection as well. Typically, credit unions offer less expensive coverage options for GAP and MBP (see article below) than dealerships.
New or used, whatever you choose, our experts are here and excited to help you get into the car of your dreams!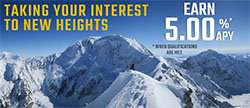 High Five for 5.00% APY PEAK Rewards Checking!
So, you've probably heard about our PEAK Rewards Checking Account. You know, the one that gives you FREE money just for doing the account basics like having online banking and using your debit card. So why haven't you made the switch yet? Visit our website or stop by one of our branches to take the plunge today!
Earn 5.00% APY on balances up to $15,000
Get ATM fee refunds
And ... it's FREE!*
Don't delay, click here for details today!
*When qualifying criteria is met.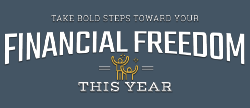 Live your best financial life
Take a bold step in your journey to financial freedom. Call GreenPath. Talk with an expert about your financial goals and establish a plan to achieve them! This is your year to live your best financial life. Start your journey today with these three easy steps:
Call GreenPath Financial Wellness today at (877) 337-3399
Talk with an Expert - A financial coach will assess your situation and provide options specific to your financial needs.
Establish a Plan - GreenPath will work with you to put together a personal plan to help you achieve your financial goals!
For additional information, we encourage you to check out our GreenPath Financial Wellness page.