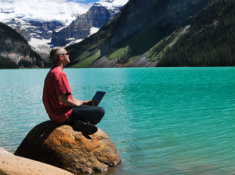 eSuite Electronic Services
We don't believe in "banker's hours"! With these free* services, you can access and maintain your accounts anytime from any internet-enabled device, no matter what time it is. You don't even have to run to the credit union or get up from your desk—just a few clicks and you can view balances, transfer funds between accounts, pay your bills and so much more. How's that for convenient?
Summary

~~~~~~~~~~~> SIGN UP TODAY <~~~~~~~~~~~

Simply sign in to eNavigator Online Banking then click on eSuite!




eStatements | Viewing and printing your statements is just a click away! To sign up for this FREE service, simply log in to eNavigator Online Banking, click on eSuite, and then on eStatements.
eNavigator Online Banking | With this FREE service, you can access your accounts anytime with any internet-enabled device. How's that for convenient?
ePay Online Bill Payment | Pay your bills or send money to friends with the new and improved ePay. It's fast, easy-to-use, secure, and best of all - it's FREE*! Don't have time to sit down and set up your bills? Don't worry - we have friendly staff that can do that for you!
e-lerts | When life gets busy, it's easy to forget all kinds of things. e-Lerts make life easier, as they can remind you to pay your loan, when to make a deposit, or even tell you when your mom's birthday is coming. Sign up for this FREE service by logging into eNavigator Online Banking, click on eSuite, and then on e-Lerts.
eSkip | Don't wait for Christmas to skip your loan payment. Do it anytime, anywhere, by simply logging into your account with eNavigator Online Banking.
eMobile | Check balances, make transfers, get current rates, and more - all on the go! This FREE service is available for Apple or Android devices.

~~~~~~~> MOBILE DEPOSITS COMING IN 2014! <~~~~~~~





System Status




System Status: Available





e-Navigator! Online Banking and The Navigator Phone System are generally available 24 hours a day, except when we perform occassional system maintenance (usually scheduled Sunday through Saturday from 4:15 am to 4:45 am AST and on Mondays from 6:30 am to 7:00 am AST).




Important Notice Regarding Your Browser Security Settings - Here at Northern Skies FCU, the security of our member's personal information is one of our highest concerns. To ensure that online banking information is not able to be viewed once you have logged out of our system, we encourage you to assess whether you may need to make some changes to your browser settings. Click here for more information on browser settings.